Private bull fights
Alfonso´s family has been raising "Fighting bulls" for more than a hundred years. In the ranch there is a lovely real arena in which they test the young females. We will organize you a private bullfight with real fighting cattle, "matadores", "picadores"…
At the end of the test you`ll have the opportunity to fight yourself with a proffesional "matador" helping you.
Horseback riding
Beautiful horseback walks in lovely scenery, among the wildlife of the area, and why not, by the fighting bulls…

Photographic safari
Take some nice "shots" of the red stags in the rutting, or the little fallow calves in the spring…

Private Events
In the non huntin season we are specialised in organizing all kind of events, such as congress, meetings, parties…
In the lodge we can host up to twenty four people, but we will arrange accommodattions in Salamanca for more people if needed. When we organize meetings we can hold lunches and dinners for more than a hundred people.

Evening Entertainment
Make any dinner or party a very pleasant and memorable event!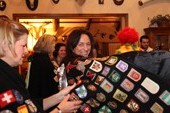 Tuna band shows
Essentially, a tuna is a roving band of semi-professional musicians and singers.
They play traditional Spanish, Portuguese and Latin American music in bars, restaurants and theaters, or on street corners, or anywhere else where it seems like a good idea.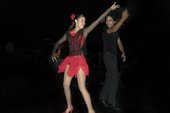 Live Flamenco shows
Discover the passion and breathtaking virtuosity of flamenco dancing.